REMEMBERING "BOLA DE NIEVE" ON A NEW BIRTHDAY. VIDEOS
Music and poetry, both virtues were possessed by Ignacio Jacinto Villa y Fernández, baptized by Rita Montaner "Bola de Nieve" (Snowball). On September 11, 1911, this immense Cuban artist was born in the town of Guanabacoa, where Lecuona and Rita, among other leading figures of musical art, were also born.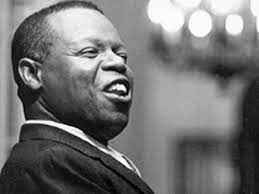 One of the most concrete proofs of the existence of human beings on earth is music, and if it is combined with poetry it will have reached its highest definition. Both virtues were possessed by Ignacio Jacinto Villa and Fernández.
The Carral cinema cradled him from a very young age as a pianist, to enliven the silent film batches. Guanabacoa was, without a doubt, the privileged place that fed his ear with the touches of Palo Monte, the songs of Santeria, the street proclamations, and the cajón rumbas that were even played in his own house. The Mateu Conservatory gave him the most complete musical training with studies of theory, music theory, and piano.
VIDEOS- Bola de Nieve Sings "Si me Pudieras.."
ARTISTIC ACTIVITY
His innate and prodigious musical instinct allowed him, from a very young age, to accompany his countrywoman Rita de him and the great soprano Zoila Gálvez. With Rita, he traveled to Mexico in 1933, and already on the Yucatecan stage he stopped calling himself Ignacio to be Bola de Nieve. Since then, both artists have formed a stellar pair of perfect coupling; one was the mirror of the other. She looked at me, Bola told me, and I knew where to put the accent or shut up the piano pedal.
Guanabacoa had been the bridge where they both assimilated the percussive rhythmic pianism of María Cervantes and the music of the drums of African origin. But Bola created a personal style so unique that it has been unrepeatable. He never considered himself a singer but an original interpreter who said the song in the manner of Fats Waller or Maurice Chevalier. Of course, he was the continuation of a Cuban tradition of being and saying.
As the poet Nicolás Guillén wrote: «Since 1930 his name was a victorious banner and in the very rich national decade that culminated in that year, which offers us names of high and fixed brilliance, heralds of the awakening or birth of a new Cuban consciousness Snowball with Rita (not because she was accompanying him on the piano, but because he was accompanying her in the story) is already a popular figure, taking this word in its most decorous, sober and dignified sense ».
And he was popular because his music was Cuban and clearly expressed the feelings of the black grandfather and the white grandfather in a happy and germinative fusion. That gave him, forever, the stamp of universality, which is present in all his repertoire, both in his personal harvest and in that of other composers. No one has been able to imitate him, no one has sung his own "little songs" like him –as he described them with ironic humility–, no one has sung 'La Flor de la Canela' or 'La Vida en Rosa' like him; nobody has dared to interpret Messié Julián like him.
VIDEOS- Bola de Nieve sings "Ay Mama Ines.."
He thus traveled the world as our most joyous and fruitful ambassador. And I say happy because he always said: "I am a sad man who is always happy." And so, with that joy, «Snowball married music and lives in it with that intimacy of pianos and bells, throwing the keyboards of heaven over his head. Long live the earthly joy of him. Health to the sonorous heart of him », exclaimed Pablo Neruda with admiration.
Bola de Nieve frequented the most coveted stages of his time: Carnegie Hall, the Café Society of Philadelphia with Paul Robeson, the Lara Theater, the Zarzuela Theater, and others, with the Conchita Piquer company.
After the triumph of the Cuban Revolution, with which he identified himself, he became one of the most sought-after artists. One day he said to me mischievously: "I don't need representatives, I have plenty of contacts in my pocket." And so it was, he conquered audiences in Eastern Europe, the Soviet Union, the People's Republic of China, and almost the entire planet. But Mexico, Chile, and Argentina were their most cherished settings in Latin America.
His artistic career began as a game and as a game, he developed it to the end. "Everything is good in life when you believe or delude yourself that you are making art," he once confessed. He was not deceived, nor did he deceive us. His life was a finished work of art. That is why we will never forget his ancestral hoarseness, his ancient song. He is in the legend where no one, not ourselves, can explain it.
Remembering the 110th anniversary of his birth, we can tell him: Thank you, Bola, fully enjoy your eternity. ¡Y zumba, la curiganga, mi negro, zumba!
RECORDANDO A BOLA DE NIEVE EN UN NUEVO CUMPLEAÑOS. VIDEOS
Música y poesía, ambas virtudes las poseía Ignacio Jacinto Villa y Fernández, bautizado por Rita Montaner como Bola de Nieve. El 11 de septiembre de 1911, este inmenso artista cubano nació en la villa de Guanabacoa, donde también habían nacido Lecuona y Rita, entre otras figuras señeras del arte musical.
Una de las pruebas más concretas de la existencia del ser humano sobre la tierra es la música, y si ella se conjuga con la poesía habrá alcanzado su definición mayor. Ambas virtudes las poseía Ignacio Jacinto Villa y Fernández.
El cine Carral lo acunó desde muy joven como pianista, para amenizar las tandas de películas silentes. Guanabacoa fue, sin dudas, el sitio privilegiado que le alimentó al oído con los toques de palo monte, los cantos de santería, los pregones callejeros y las rumbas de cajón que se tocaban, incluso, en su propia casa. El conservatorio Mateu le propició la formación musical más acabada con estudios de teoría, solfeo y piano.
VIDEOS- Bola de Nieve canta "Si me pudieras.."
ACTIVIDAD ARTISTICA
Su instinto musical innato y prodigioso le permitió, desde muy joven, acompañar a su paisana Rita y a la gran soprano Zoila Gálvez. Con Rita viajó a México en 1933 y ya en los escenarios yucatecos dejó de llamarse Ignacio para ser Bola de Nieve. Desde entonces, ambos artistas formaron un binomio estelar de perfecto acoplamiento; uno era el espejo del otro. Ella me miraba, me contaba Bola, y yo sabía dónde poner el acento o callar el pedal del piano.
VIDEOS- Bola de NIeve canta "El Manisero"
Había sido Guanabacoa el puente donde ambos asimilaron el pianismo de rítmica percusiva de María Cervantes y la música de los tambores de origen africano. Pero Bola creó un estilo personal tan único que ha sido irrepetible. Él nunca se consideró cantante sino un intérprete original que decía la canción al modo de Fats Waller o Maurice Chevalier. Eso sí, fue continuador de una tradición cubana de ser y decir.
Como escribió el poeta Nicolás Guillén: «Desde 1930 su nombre fue una enseña victoriosa y en la riquísima década nacional que culmina en aquel año, lo cual nos ofrece nombres de resplandor alto y fijo, anunciadores del despertar o del nacimiento de una nueva conciencia cubana, Bola de Nieve junto a Rita (no porque le acompañaba al piano, sino porque estaba acompañándola en la historia) es ya una figura popular, tomando esta palabra en su sentido más decoroso, más sobrio y digno».
Y fue popular porque su música era cubana y expresaba diáfanamente el sentir del abuelo negro y el abuelo blanco en una fusión feliz y germinativa. Eso le otorgó, para siempre, el sello de universalidad, que está presente en todo su repertorio, tanto en el de su cosecha personal, como en el de otros compositores. Nadie lo ha podido imitar, nadie ha cantado como él sus propias «cancioncitas» –como él las calificaba con irónica humildad–, nadie ha cantado 'La Flor de la Canela' o 'La Vida en Rosa' como él; nadie se ha atrevido a interpretar Messié Julián como él.
VIDEOS- Bola de Nieve canta " Un Momento.."
Así recorrió el mundo como nuestro más alegre y fecundo embajador. Y digo alegre porque él siempre dijo: «Soy un hombre triste que siempre está alegre». Y así, con esa alegría, «Bola de Nieve se casó con la música y vive en ella con esa intimidad de pianos y cascabeles, tirándose por la cabeza los teclados del cielo. Viva su alegría terrestre. Salud a su corazón sonoro», exclamó con admiración Pablo Neruda.
Bola de Nieve frecuentó los escenarios más codiciados de su época: el Carnegie Hall, el Café Society de Filadelfia con Paul Robeson, el Teatro Lara, el de la Zarzuela y otros, con la compañía de Conchita Piquer.
A partir del triunfo de la Revolución, con la que se identificó, llegó a ser uno de los artistas más cotizados. Un día me dijo con picardía: «No necesito representantes, me sobran los contratos en el bolsillo». Y así fue, conquistó los públicos de la Europa del Este, de la Unión Soviética, de la República Popular China y de casi todo el planeta. Pero fueron México, Chile y Argentina sus escenarios más acariciados de América Latina.
Su carrera artística empezó como un juego y como un juego la desarrolló hasta el final. «Todo es bueno en la vida cuando uno cree o se engaña creyendo que está haciendo arte», confesó una vez. Él no se engañó, ni nos engañó. Su vida fue una obra de arte acabada. Por eso no olvidaremos nunca su ronquera ancestral, su canto antiguo. Él está en la leyenda donde nadie, ni nosotros mismos, lo podemos explicar.
Recordando el aniversario 110 de su nacimiento podemos decirle !Gracias, Bola, disfruta plenamente tu eternidad. ¡Y zumba, la curiganga, mi negro, zumba!
Agencies/ Miguel Barnet/ Extractos/ Excerpts/ Internet Photos/ YouTube/ Arnoldo Varona/ www.TheCubanHistory.com
THE CUBAN HISTORY, HOLLYWOOD.
TheCubanHistory.com Comments
comments