Carlos Prio Socarrás, last elected president of Cuba, was born in Bahía Honda, Cuba on 14th July 1903. Prio became involved in politics while a law student at the University of Havana. He spent two years in prison for his anti-government activities. After his release he took part in the coup that deposed Gerardo Machado's dictatorship in 1933 and helped organize the Partido Revolucionario Cubano Auténtico.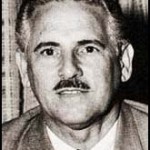 In 1944 President Ramón Grau appointed him as his Minister of Labour. He became a popular minister and in 1948 he replaced Grau as president. However, he never kept his promise of removing the Mafia from Cuba. He also appeared to acquire considerable wealth during his period in government.In 1952 elections the Cuban People's Party was expected to form the new government. During the election campaign General Fulgencio Batista, with the support of the armed forces, ousted Prio and took control of the country. Prio fled to the United States.
In 1953, Fidel Castro, with an armed group of 123 men and women, attacked the Moncada army barracks. The plan to overthrow Batista ended in disaster and although only eight were killed in the fighting, another eighty were murdered by the army after they were captured. Castro was lucky that the lieutenant who arrested him ignored orders to have him executed and instead delivered him to the nearest civilian prison.
Following considerable pressure from the Cuban population, Fulgencio Batista decided to release Fidel Castro after he had served only two years of his sentence. Batista also promised elections but when it became clear that they would not take place, Castro left for Mexico where he began to plan another attempt to overthrow the Cuban government. Prio used some of the money to support the efforts of Castro against the Batista regime. However, he broke with Castro after he gained power in 1959.
Prio worked as a property developer and businessman in Miami. It was claimed that Prio was involved in the Bay of Pigs operation. It was also suggested that he had information on the assassination of President John F. Kennedy. He was also linked in testimony with Jack Ruby and Frank Sturgis.
In 1977 Prio was wanted for questioning by the Select Committee on Assassinations. He was found dead from gunshot wounds on 5th April, 1977, outside the garage of his Miami Beach home. He died at the same time as George De Mohrenschildt and Charlie Nicoletti, two other men due to appear before the committee. Officially Carlos Prio committed suicide, however, in an article, Did the CIA kill Carlos Prio?, David Miller suggested in had been murdered.
Spartacus Educational.(www.spartacus.schoolnet.co.uk)