The buildings surrounding the plaza (central square) date from the 18th and 19th centuries when trade in sugar from the nearby Valle de los Ingenios and the slave trade brought great riches to the area. Many of the buildings surrounding the plaza belonged to the wealthy landowners of the city.
When the trade in sugar diminished and the slave trade ended in the mid-19th century, Trinidad became 'a backwater' and little building work occurred until the 1950s. As a result, many of the historic buildings and streets were preserved, especially the grand colonial edifices in the immediate vicinity of the Plaza Mayor. Today, most of the former houses surrounding the square house museums.
The small sloping Plaza Mayor has gardens on a raised platform, with paths dividing it in quarters. The resulting four small garden beds are fenced off by white wrought-iron fences. Cobbled streets surround the square, separating it from the surrounding buildings. Wrought-iron lamp-posts, statues of English greyhounds, and columns with large terra-cotta finials decorate the plaza.
The barrotes of the 18th century, were replaced in the 19th century by grilles decorated with ornamental motifs.
The colonial houses of Trinidad are typified by red terracotta tiled roofs supported beyond the walls by wooden beams. Pastel-coloured paintwork for the houses is normal with wood and plasterwork details picked out in different colours to the brickwork.
The large main door typically has a smaller entrance door (or doors) cut into it. In contrast to the houses of the same period in Havana the door tends to open directly onto a living area, rather than having a vestibule or entrance hall. The doors are often surrounded by architectural plaster mouldings. Windows lack glass, instead they are open to the elements, but have barrotes, bars constructed of small turned wooden columns which allow the air to circulate without allowing entrance to the house. In the 19th century these wooden barriers were replaced by wooden shutters behind a wrought-iron grille.
The large windows are normally raised slightly from ground-level but can be flush to the pavement. Arched windows are also common, but are enclosed with radiating wooden slats. 19th-century houses tend to be built around a small courtyard with the rooms facing onto it.
Buildings and plazas within the World Heritage Site include:

Iglesia Parroquial de la Santísima Trinidad
Above the plaza to the north-east stands the Church of the Holy Trinity (Iglesia Parroquial de la Santísima Trinidad). Construction began on the current church in the late 19th century and it was completed in 1892. It was built on the site of a previous 17th-century church that was destroyed during the 19th century by a cyclone which damaged a great many buildings in Trinidad.
The church contains an 18th-century wooden statue of Christ, "The Lord of the True Cross" ("El Señor de la Vera Cruz") which is an object of particular reverence in Trinidad. Originally destined for a church in Veracruz in Mexico, the ship carrying the statue was driven back to Trinidad three times by bad weather and was only able to make the journey after abandoning part of its cargo which included the statue of Christ. This was taken as divine intervention by the local population and the statue has been housed in the church ever since. Also housed within the building is a large Gothic revival altar dedicated to Our Lady of Mercy (Nuestra Señora de la Piedad).
The church has a Neoclassical façade, but little architectural attention was paid to the mostly concealed rear of the church. To the right of the church is a flight of steps leading to the Casa de la Musica (House of Music), a modern building constructed in a style similar to those nearby.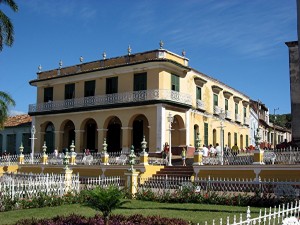 Palacio Brunet
To the left of the Church of the Holy Trinity stands the Brunet Palace (Palacio Brunet) which was built in 1812 by José Mariano Borrell y Padrón, head of the wealthy Borrell family. It takes its name from Count Nicolás de la Cruz Brunet y Muñoz, the husband of Borrell's daughter who inherited the house on Borrell's death. It now houses the Romantic Museum (Museo Romántico), mostly displaying objects that belonged to the Borrell family. The house has a central balustraded courtyard, and still features the original marble floor, frescoes, and neoclassical decoration. In the kitchen the original painted earthenware tiles can still be seen.
Casa de los Sánchez Iznaga
On the other side of the square from the Museum of Guamuhaya Archeology is the House of the Sánchez Iznaga (Casa de los Sánchez Iznaga) which houses the Museum of Colonial Architecture (Museo de Arquitectura Colonial). This building was originally two houses in the 18th century, both owned by the sugar barons of the Sánchez Iznaga family (who owned the Manaca Iznaga estate in the nearby Valley de los Ingenios). The two houses, joined in the 19th century show the typical grilled and shuttered windows, and feature an elegant portico with slim columns and a delicate wrought iron balustrade, in contrast to the heavier pillars and ironwork of the Museum of Guamuhaya Archaeology on the other side of the square. Inside, the museum features items from Trinidad's architectural history (including an elaborate 19th-century shower) and details the history of building in the Colonial period.
Casa de Aldemán Ortiz
At the bottom of the square is the House of Mayor Ortiz (Casa de Aldemán Ortiz), built in 1809 by Ortiz de Zúníga, who later became Mayor of Trinidad. The house shows many of the typical features of Trinidadian houses, including the large entrance door with two smaller doors cut into it, the barrotes covering the large windows and a terracotta tiled roof with large wooden supports. It is less typical in that it has a projecting balcony running along two sides.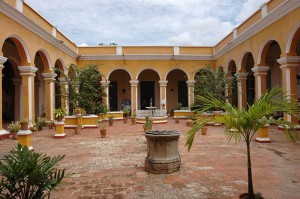 Palacio Cantero — Museo de Historia Municipal
One side of the Casa de Aldemán Ortiz faces onto the Calle Simón Bolívar; slightly down this road is the Cantero Palace (Palacio Cantero) one of the largest and most impressive of the houses surrounding the Plaza Mayor. Grander than most buildings nearby, it features a spacious entrance hall that opens on to a large galleried courtyard. Original frescoes survive on the plasterwork of the main hall, and a tower accessible from the courtyard gives views over the Plaza Mayor, the city of Trinidad, and the sea. The house is now used as the Municipal History Museum (Museo de Historia Municipal) which details the history of Trinidad.
Originally built in 1828 by Don Jose Mariano Borrell y Padron,one of the richest men in Trinidad, it was inherited by his son Jose Mariano Borrell y Lemus, Marques de Guaimaro and then bought in 1841 by Maria Monserrate Fernandez de Lara y Borrell, a niece of the older Jose Mariano. In 1842 Justo German Cantero y Owar-Anderson, a local doctor, married Pedro Iznaga's widow, Maria Monserrate, and it was the home of the Cantero/Fernandez de Lara family until the late 19th century.
Sources:Wiki/InternetPhotos/www.thecubanhistory.com
TRINIDAD CITY: A Meeting with History
The Cuban History, Arnoldo Varona, Editor
CIUDAD DE TRINIDAD, CUBA: UNA CITA CON LA HISTORIA.
Los edificios que rodean la fecha plaza (plaza central) de los siglos 18 y 19, cuando el comercio de azúcar de la cercana Valle de los Ingenios y la trata de esclavos trajo gran riqueza a la zona . Muchos de los edificios que rodean la plaza pertenecía a los terratenientes ricos de la ciudad.
Cuando el comercio de azúcar disminuido y la trata de esclavos terminó en el siglo de mid-19th , Trinidad se convirtió en " un remanso " y poco trabajo de construcción se produjo hasta la década de 1950 . Como resultado , muchos de los edificios históricos y las calles se han conservado , sobre todo los edificios coloniales grandes en las inmediaciones de la Plaza Mayor. Hoy en día , la mayoría de las antiguas casas de los alrededores de las casas museo cuadrados.
La pequeña pendiente Plaza Mayor cuenta con jardines en una plataforma elevada , con caminos dividirlo en cuartos. Los cuatro parterres pequeños resultantes están cercadas por vallas de hierro forjado blanco . Calles empedradas rodean la plaza, que lo separa de los edificios circundantes. Farolas de hierro forjado , las estatuas de galgos ingleses, y las columnas con grandes remates de terracota adornan la plaza.
Los barrotes del siglo 18, fueron sustituidos en el siglo 19 por rejas decoradas con motivos ornamentales.
Las casas coloniales de Trinidad se caracterizan por techos de tejas rojas de terracota apoyo más allá de las paredes de vigas de madera. Pintura en colores pastel de color para las casas es normal con la madera y los detalles de yesería elegido en diferentes colores de los ladrillos .
La gran puerta principal tiene típicamente una puerta de entrada más pequeña (o puertas) cortó en ella . A diferencia de las casas de la misma época en La Habana la puerta tiende a dar directamente a una sala de estar , en lugar de tener un vestíbulo o hall de entrada . Las puertas son a menudo rodeados por molduras de yeso arquitectónicos . La falta de vidrio de Windows , sino que están abiertas a los elementos, pero tienen barrotes , bares construidos con pequeños volvieron columnas de madera que permiten que el aire circule sin permitir la entrada a la casa. En el siglo 19 estas barreras de madera fueron reemplazados por persianas de madera detrás de una reja de hierro forjado.
Las grandes ventanas son normalmente un poco elevada desde el nivel del suelo , pero puede ser a ras con el pavimento . Ventanas de arco también son comunes, pero están encerrados con la radiación de listones de madera. Casas del siglo 19 tienden a ser construido en torno a un pequeño patio con las habitaciones que dan a ella.
Edificios y plazas dentro del Patrimonio de la Humanidad son:

Iglesia Parroquial de la Santísima Trinidad
Por encima de la plaza hacia el norte -este se encuentra la Iglesia de la Santísima Trinidad (Iglesia Parroquial de la Santísima Trinidad ) . La construcción comenzó en la iglesia actual en el siglo 19 y fue terminada en 1892. Fue construido en el emplazamiento de una iglesia del siglo 17 anterior que fue destruida en el siglo 19 por un ciclón que dañó una gran cantidad de edificios en Trinidad .
La iglesia contiene una estatua del siglo 18 de madera de Cristo , " El Señor de la Vera Cruz " (" El Señor de la Vera Cruz " ), que es un objeto de especial veneración en Trinidad. Originalmente destinado a una iglesia en Veracruz , en México , el barco que llevaba la estatua fue conducido de nuevo a Trinidad tres veces por el mal tiempo y sólo fue capaz de hacer el viaje después de abandonar parte de su carga que incluye la estatua de Cristo. Esto fue tomado como una intervención divina por la población local y la estatua se ha alojado en la iglesia desde entonces. También se encuentra dentro del edificio hay un gran altar neogótico dedicado a Nuestra Señora de la Merced ( Nuestra Señora de la Piedad ).
La iglesia tiene una fachada neoclásica , pero se prestó poca atención a la arquitectura posterior mayormente oculto de la iglesia. A la derecha de la iglesia hay un tramo de escaleras que conducen a la Casa de la Música ( Casa de la Música ) , un moderno edificio construido en un estilo similar a los que están cerca.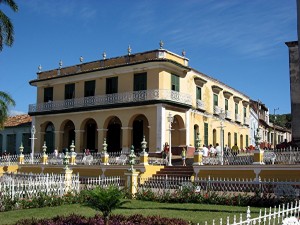 Palacio Brunet
A la izquierda de la Iglesia de la Santísima Trinidad se encuentra el Palacio Brunet ( Palacio Brunet ) , que fue construido en 1812 por José Mariano Borrell y Padrón, jefe de la familia Borrell ricos. Toma su nombre del conde Nicolás de la Cruz Brunet y Muñoz , el marido de la hija de Borrell que heredó la casa de la muerte de Borrell . En la actualidad alberga el Museo Romántico ( Museo Romántico ) , en su mayoría mostrando objetos que pertenecieron a la familia Borrell . La casa tiene un patio con balaustrada central, y aún cuenta con el suelo de mármol original , frescos , y la decoración neoclásica . En la cocina, los azulejos pintados originales aún se pueden ver.
Casa de los Sánchez Iznaga
En el otro lado de la plaza del Museo de Arqueología Guamuhaya es la Casa de los Sánchez Iznaga ( Casa de los Sánchez Iznaga ), que alberga el Museo de Arquitectura Colonial (Museo de Arquitectura Colonial) . Este edificio fue originalmente dos casas del siglo 18 , ambos propiedad de los barones del azúcar de la familia Sánchez Iznaga ( dueño de la finca Manaca Iznaga en el cercano Valle de los Ingenios ) . Las dos casas , se unieron en el siglo 19 muestran las típicas ventanas a la parrilla y cerrada , y cuentan con un elegante pórtico con columnas esbeltas y una balaustrada de hierro forjado delicada , a diferencia de los pilares más pesados ​​y herrajes del Museo de Arqueología Guamuhaya en el otro lado de la plaza. En el interior, el museo cuenta con elementos de historia de la arquitectura de Trinidad (incluyendo una ducha elaborado del siglo 19 ) y los detalles de la historia de la construcción en el período colonial.
Casa de Aldeman Ortiz
En la parte inferior de la plaza se encuentra la Casa del Alcalde Ortiz ( Casa de Aldeman Ortiz ) , construida en 1809 por Ortiz de Zúñiga , quien más tarde se convirtió en alcalde de Trinidad . La casa muestra muchas de las características típicas de las casas de Trinidad , como la puerta de entrada grande con dos puertas más pequeñas cortadas en ella , los barrotes que cubren los ventanales y techos de teja de barro cocido con grandes soportes de madera . Es menos típica en que tiene un balcón que sobresale corriendo a lo largo de dos lados .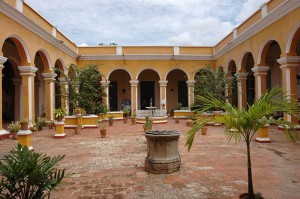 Palacio Cantero
Un lado de la Casa de Aldeman Ortiz , da a la Calle Simón Bolívar , ligeramente abajo de este camino se encuentra el Palacio Cantero ( Palacio Cantero ), uno de los mayores y más impresionantes de las casas que rodean la Plaza Mayor. Grander que la mayoría de los edificios cercanos , que cuenta con un amplio hall de entrada que da a un gran patio con galería . Frescos originales sobreviven en las yeserías de la sala principal , y una torre de acceso desde el patio ofrece vistas a la Plaza Mayor, la ciudad de Trinidad , y el mar . La casa se ​​utiliza ahora como el Museo Municipal de Historia (Museo de Historia Municipal ), que detalla la historia de Trinidad .
Originalmente construido en 1828 por Don José Mariano Borrell y Padrón, uno de los hombres más ricos de Trinidad , fue heredado por su hijo José Mariano Borrell y Lemus , Marques de Guáimaro y luego compró en 1841 por Maria Monserrate Fernández de Lara y Borrell , un sobrina del mayor José Mariano . En 1842 Justo German Cantero y Owar -Anderson , un médico local , se casó con la viuda de Pedro Iznaga , Maria Monserrate , y fue el hogar de la familia Cantero / Fernández de Lara hasta finales del siglo 19.
Sources:Wiki/InternetPhotos/www.thecubanhistory.com
TRINIDAD CITY: A Meeting with History
The Cuban History, Arnoldo Varona, Editor
TheCubanHistory.com Comments
comments