The plantain fufú is a rich Cuban dish. It's basically platain? Male(macho)? crushed and mixed with pork cracklings. Many Cubans eat, but not everyone knows the origin of the word.
According to Fernando Ortiz, the great Cuban folklore researcher, during the British rule in Cuba, after the capture of Havana, Cuba entered many black slaves brought by the British.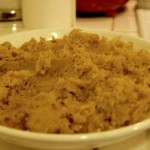 The food was usually the slaves was boiled and mashed bananas and it is believed that this way of eating the banana came from Ghana and Sierra Leone. British slave traders used to say? Food, food?, When distributed rations to blacks and slaves hence using the word? Fufu? to describe the meal.
This dish is also known in the Caribbean as machuquillo, matajibaro, mofóngo (Puerto Rico) and mangú (Dominican Republic).
Sources: Liborio/InternetPhotos/TheCubanHistory.com
CUBANISMOS: "The Fufú" Origen
The Cuban History/ Arnoldo Varona, Editor
CUBANISMOS: ORIGEN DEL "Fufú"
El fufú de plátano es un riquísimo plato cubano. Es, basicamente, plátano ?macho? machacado y mezclado con chicharrones de puerco. Muchos cubanos lo comen, pero no todos saben el origen de esta palabra.
Según Fernando Ortiz, el gran investigador del folclore cubano, durante la dominación inglesa en Cuba, después de la toma de La Habana, entraron en Cuba muchos esclavos negros llevados por los ingleses.
La comida que normalmente se daba a los esclavos era plátano hervido y machacado y se cree que esta forma de comer el plátano venía de Ghana y Sierra Leona. Los negreros ingleses acostumbraban a decir ?food, food?, cuando repartían las raciones a los negros y de ahí que los esclavos usaran la palabra ?fufú? para designar dicha comida.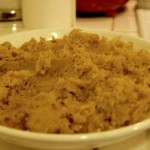 Este plato se conoce también en el Caribe como machuquillo, matajíbaro, mofóngo (en Puerto Rico) y mangú (en República Dominicana).
Sources: Liborio/InternetPhotos/TheCubanHistory.com
© CUBANISMOS: "The Fufú" Origen
The Cuban History/ Arnoldo Varona, Editor
TheCubanHistory.com Comments
comments