We are back again with some specialties passed down for generations from Cuba. My Mom is from Santiago de Cuba were this special black beans and rice dish is known as Congri. I believe in Havana it's known as Arroz Morro; in fact my Mom had never heard it termed Arroz Morro until she arrived in the states.
First off, there are three essential requirements to any Cuban dish, plenty of garlic, loud Cuban/Puerto Rican music in the background, and the cook's favorite pot/pan. The pot Mom uses is very special in the fact that she purchased it in Cuba back in 1962. Mom has used the the pot for the past 47 years exclusively for Congri. The only thing Mom has changed is she now cooks the beans in a pressure cooker to save time.
With Moms special pan, plenty of garlic, and Hector Lavoes "Abuelita" playing in the background we were ready to go.
Ingredients
Serves 8
1 Cup Black Beans
2 Cups White Rice
5 Cups Water
1 lb of Salt Pork
1/2 Orange Pepper
1/2 Yellow Pepper
1/2 Green Pepper
9 Garlic Cloves crushed
1 Onion
2 tbsp Cumin
2 tbsp Olive Oil
Salt to taste
Cook black beans in water (we used 5 cups of water in a pressure cooker, with dry beans it took approximately 20 min).
Roughly chop the peppers and onions. Crush the garlic cloves. Note: The salt pork was purchased already cut.
Add two tablespoons of olive oil to pan and cook salt pork in saucepan over moderate heat, stirring occasionally, until pork is golden and crisp, 6 to 8 minutes.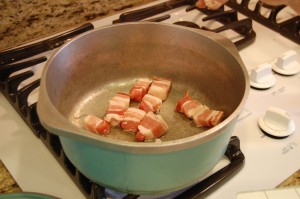 Add onions, bay leaves, bell peppers, garlic and cumin sauté over medium-high heat 3-4 minutes or until onion is tender.
Add rice and stir in.
Add the cooked beans along with the water used to cook them and let sit, do not cover or stir.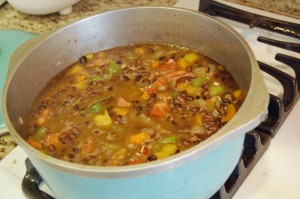 After water has absorbed (approx 10 min) reduce heat, stir, and cover the pot. Let simmer 20 minutes or until rice is tender.
Remove from heat and serve. Congri pairs well with pork dishes.
No salt was needed; enough salt was drawn from the salt pork. You will notice many different regional differences to Congri, some recipes I have seen use bacon instead of salt pork. I also have seen tomato and or vinegar used on some Congri recipes. The recipe we have shared has not been changed from the one my Mom learned as a child growing up in Santiago de Cuba, its different flavors and textures all combined make for a mouthwatering dish.
Enjoy!
Sources: MassaA/CocinaCubana/InternetPhotos/ TheCubanHistory.com
Cuban Congri (Arroz Moro) Recipe
The Cuban History, Arnoldo Varona, Editor
CONGRI CUBANO (ARROZ MORO). LA RECETA.
Estamos de vuelta de nuevo en algunas especialidades de lo que se ha pasado de generación en generación desde Cuba. Mi mamá es de Santiago de Cuba donde fueron estos frijoles negros especiales y el arroz es conocido como congrí. Creo que en La Habana se le conoce como Arroz Morro, de hecho mi mamá nunca había oído que se le llamaba asi (Arroz Morro) hasta que llegó a los Estados Unidos.
En primer lugar, hay tres requisitos esenciales para cualquier plato cubano, un montón de ajo, música de Puerto voz alta cubana / Puerto en el fondo, y del cocinero olla/sartén favorito. La olla que mamá utiliza es muy especial en el hecho de que ella la compró en Cuba en 1962. Mamá ha utilizado la olla de los últimos 47 años exclusivamente para Congrí. Lo único que mamá ha cambiado es que ahora cocina los frijoles en una olla de presión para ahorrar tiempo.
Con la cazuela de mama especial, un montón de ajo, y Héctor Lavoes "Abuelita" sonando de fondo, estábamos listos para empezar.
Ingredientes
Rinde 8 porciones
1 taza Frijoles Negros
2 tazas de arroz blanco
5 Tazas de agua
1 libra de carne de cerdo salada
1/2 naranja pimienta
1/2 pimiento amarillo
1/2 pimiento verde
9 dientes de ajo machacados
1 cebolla
2 cucharadas de comino
2 cucharadas de aceite de oliva
Sal al gusto
Cocine los frijoles en agua (en el ejemplo 5 tazas de agua en una olla a presión, con frijoles que se tardan aproximadamente 20 min).
Alrededor de cortar los pimientos y las cebollas. Machacar los dientes de ajo. Nota: El tocino se compró ya cortado.
Añadir dos cucharadas de aceite de oliva a la sartén y cocinar tocino en una cacerola a fuego moderado, revolviendo ocasionalmente, hasta que la carne esté dorada y crujiente, de 6 a 8 minutos.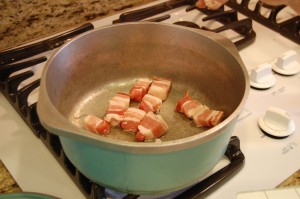 Agregue la cebolla, hojas de laurel, pimientos, ajo y comino saltee a fuego medio-alto durante 3-4 minutos o hasta que la cebolla esté tierna.
Agregue el arroz y revuelva pulg
Agregue los frijoles cocidos junto con el agua que se utiliza para cocinar y deje reposar, no cubra ni moverse.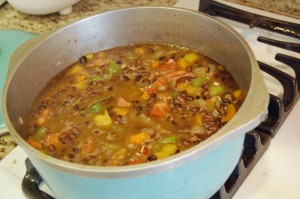 Después del agua ha absorbido (unos 10 min) reduzca el fuego, remover y tapar la olla. Deje hervir a fuego lento 20 minutos o hasta que el arroz esté tierno.
Retirar del fuego y servir. Pares congrí bien con platos de carne de cerdo.
No es necesario la sal, suficiente sal se extrae de la carne de cerdo salada. Usted notará muchas diferencias regionales diferentes a Congrí, algunas de las recetas que he visto utilizar en lugar de tocino de cerdo sal. También he visto el tomate y el vinagre o utilizar en algunas recetas congrí. La receta que hemos compartido no se ha modificado desde que mi mamá se enteró desde su infancia en Santiago de Cuba, sus diferentes sabores y texturas de todo el combinado lo hacen un plato delicioso.
Disfrutalo!
Sources: MassaA/CocinaCubana/InternetPhotos/ TheCubanHistory.com
Cuban Congri (Arroz Moro) Recipe
The Cuban History, Arnoldo Varona, Editor
TheCubanHistory.com Comments
comments