Shrimp Enchilados Recipe
ingredients
2 pounds of shrimp
¼ cup olive oil
1 onion
4 cloves of garlic
1 teaspoon paprika
½ green bell pepper
1 red bell pepper
1 can tomato puree
½ can of peas or green olives
½ cup dry wine
½ cup water
1 bay leaf
one macito cilantro
cumin, pepper and salt to taste.
1 cup water.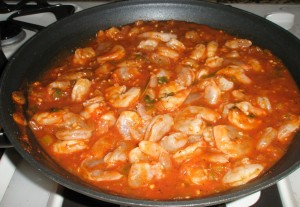 elaboration
Clean and wash shrimp. In a deep pot, heat the olive oil.
Add onion, garlic, peppers peppers, cilantro and tomato paste to create the sauce. Remember, I spend all my species for food processing to avoid pieces of onions or peppers. in food. Add shrimp and stir into the sauce.
Add the dry wine and water. Condiméntelos with cumin, paprika, salt and pepper to taste.
Add the bay leaf and peas or olives.
Let cook on low heat for 20 minutes without covering the pot.
Sources: CocinaCubana/InternetPhotos/TheCubanHistory.com
Shrimp Enchilados Recipe/ The Cuban History/ Arnoldo Varona, Editor
ENCHILADO DE CAMARONES (A LA CUBANA)
Ingredientes
2 libras de camarones
¼ taza de aceite de oliva
1 cebolla
4 dientes de ajo
1 cucharadita de paprika
½ ají morrón verde
1 ají morrón rojo
1 lata de puré de tomate
½ lata de guisantes o aceitunas verdes
½ taza de vino seco
½ taza de agua
1 hoja de laurel
un macito de cilantro
comino, pimienta y sal a gusto.
1 taza de agua.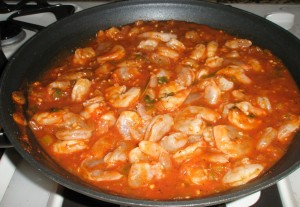 Elaboración
Limpie y lave los camarones. En una olla honda, caliente el aceite de oliva.
Agregue la cebolla, el ajo, los ajíes morrones, cilantro y puré de tomate para crear el sofrito. Recuerden, yo paso todas mis especies por el proceso de comida para no tener trozos de cebolla o ajíes. en la comida. Añada los camarones y revuélvalos en el sofrito.
Agregar el vino seco y el agua. Condiméntelos con el comino, paprika, sal y pimienta a gusto.
Agregar la hoja de laurel y los guisantes o aceitunas.
Déjelos cocinar a temperatura baja por 20 minutos sin tapar la olla.
Sources: CocinaCubana/InternetPhotos/TheCubanHistory.com
Shrimp Enchilados Recipe/ The Cuban History/ Arnoldo Varona, Editor
TheCubanHistory.com Comments
comments