Anibal de Mar was an actor with a long and distinguished career in Cuba. He began his career in 1934 working in almost every theater in the island acted in Cmkd, CMKI in Santiago de Cuba, CMQ, COCO and RHC in Havana.
Aníbal de Mar real noombre Samon was Evaristo Dominguez. He was born on October 26, 1918 in Yateras, Guantánamo province east of the island of Cuba.
He was the ease of making multiple characters at once managed to obtain a program in Santiago de Cuba with the character of Don Pancras and Felipito representing the father and son), which was then taken to the big screen in later years with the film entitled "A Dangerous Adventure" (1939).
Afiche promocional de la serie radial Chan-Li-Po en la que el protagonista era Aníbal de Mar.
The radio station CMK (founded by Felix O'Shea) had a notable success in 1937 to initiate transmission of serial detective Chan-Li-Po, originally written by Felix B. Caignet (author of the novel Birthright), which was the first of its kind in Cuba and in Latin America, and was interpreted by Aníbal de Mar in splendid form. The program is broadcast Monday through Saturday in prime time at 8 pm, and this phenomenon conceived the most communicative of Cuban society before.
While Aníbal de Mar performed the role of Chan-Li-Po in radio, also starred in the first talkie Cuba in 1937: "The Red Serpent," playing in the flesh Detective Chan-Li-Po, which was the same detective the popular Chinese radio broadcasts.
Aníbal de Mar en el papel de Chan Li Po durante la película La Serpiente Roja
In that film, how nice of the action is set in England and has a detective plot where Mary Smith (Pituka Foronda) requires the services of a famous Chinese detective Li Po Chang (Anibal de Mar), to unravel a complicated family plot . It also participates in the cast Carlos Badia, actor who became popular in Cuba.
To the delight of the producers, the movie made a lot of money. The revenue exceeded fifty thousand dollars in just three months of travel through the interior of the island, covering more than its lowest cost achieved by the cooperation of artists and technicians.
In addition to The Court and The Tremendous show Pototo and Filomeno, Aníbal de Mar starred in other TV spots, for example, The rich men, where Filomeno Pototo and changed characters to portray Juan Ramón y Domitilo respectively, always accompanied by a stellar cast.
In the 40′s, played the detective Mr. Chan on the radio series "Raffles, The Thief of the Hands of Silk", next to the inspector Carter. That Cuban radio program, written by José Angel Buesa, was about the adventures of Raffles, an elegant and sophisticated thief who stole from people whose wealth was ill-gotten.
Raffles, with a split personality, sometimes it was the respected Lord Lister and the rest of the time he put on his mask to take to the streets of London to do their work. After stealing a business card left at the scene and then donating the loot to worthy causes. Aníbal de Mar also participated in the ribbon of the same name that later would. The following is an episode of Raffles where Mr. Chan listens to the voice of Aníbal de Mar:
It also counts among its major films titled "Hitler's Me", 1944, accompanied by Adolfo Otero.
Among other films he starred include "Musical Romance" in 1941 with the intervention of the great actor Otto Sirgo, Rosita Fornes the great actress Harriet Sierra, Olga Chorens Elsa Valladares, Normita Suarez and Rita Montaner, then there was "Ghosts of the Caribbean" in 1942 "Women and Music Pirates" in 1950, "Hotel for Girls" in 1951, "Prince of contraband" in 1950 and "Ole … Cuba" in 1957.
For the year 1947, in New York City, USA, Hannibal took to the studios of Metro Goldwing Mayer (MGM) in the Spanish dub of the movie "Little Mr. Jim" ("The Little Mr. Jim" ), where he became the voice of a Chinese character called Chingwah Lee. A preview of this movie is possible to see on the website of the MGM.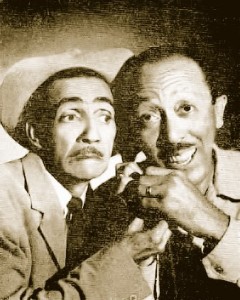 Aníbal de Mar junto a su gran compañero Leopoldo Fernández
In the decade of 50, starred in the TV series and Filomeno Pototo, accompanied by Leopoldo Fernandez. He embodied the judge would also be present in The Tremendous Court. Beside Leopoldo Fernandez and charanga orchestra ringers 40, also recorded an album with songs from the program. It was a great friend of Leopoldo Fernandez, who had a chemical during a performance rarely seen.
After the Cuban Revolution, Aníbal de Mar went to the United States. Off the Island, the development of his artistic career continued flourishing and enhanced its continental expansion. Most presentations Aníbal de Mar in the country took place in theaters, but also kept his forays into television.
The inseparable companion of Leopoldo Fernandez, whose hobby was photography, died on February 22, 1980 in Miami Florida.
Sources: AnibaldeMar/InternetPhotos/theCubanHistory.com
Anibal de Mar/ The Cuban History/ Arnoldo Varona, Editor
ANIBAL DE MAR, COMEDIANTE
Anibal de Mar fue un actor con una larga y prestigiosa carrera artística en Cuba. Comenzó su carrera artística en el año 1934 trabajando en casi todos los teatros de la Isla. Actuó en CMKD, CMKI, en Santiago de Cuba, CMQ, COCO y RHC en la Habana.
Aníbal de Mar verdadero noombre era Evaristo Samón Domínguez. Nació el 26 de Octubre de 1918 en Yateras, provincia de Guantánamo al oriente de la isla de Cuba.
Tenía la facilidad de realizar múltiples personajes a un mismo tiempo logrando realizar un programa en Santiago de Cuba con el personaje de Don Pancrasio y Felipito (representando al padre y al hijo), que luego fue llevado a la pantalla grande en años posteriores con la película titulada "Una Aventura Peligrosa" (1939).
Afiche promocional de la serie radial Chan-Li-Po en la que el protagonista era Aníbal de Mar.
La emisora radial CMK (fundada por Félix O'Shea) tuvo un notables acierto iniciar la transmisión en 1937 del serial detectivesco Chan–Li–Po, escrito originalmente por Félix B. Caignet (autor de la novela El Derecho de Nacer), el cual fue primero de su género en Cuba y en la América Latina, y fue interpretado por Aníbal de Mar de forma espléndida. El programa se transmitía entre lunes y sábado, en el horario estelar de las 8 p.m., y ello gestó el mayor fenómeno comunicativo de la sociedad cubana hasta entonces.
Al mismo tiempo que Aníbal de Mar realizaba el papel de Chan-Li-Po en radio, también protagonizó el primer filme sonoro cubano en 1937: "La Serpiente Roja", interpretando en carne y hueso al detective Chan-Li-Po, el cual era el mismo detective chino de las populares emisiones radiales.
Aníbal de Mar en el papel de Chan Li Po durante la película La Serpiente Roja
En esa película, lo simpático de la acción es que transcurre en Inglaterra y cuenta una intriga policiaca donde Mary Smith (Pituka de Foronda) solicita los servicios de un famosos detective chino Chang Li Po (Anibal de Mar), para desentrañar una complicada trama familiar. También participa en el elenco Carlos Badía, actor que llegó a ser muy popular en Cuba.
Para satisfacción de los productores, la película hizo mucho dinero. La recaudación superó los cincuenta mil pesos en sólo tres meses de recorrido por el interior de la Isla, para cubrir con creces su ínfimo costo logrado por la cooperación de artistas y técnicos.
Además de La Tremenda Corte y El show de Pototo y Filomeno, Aníbal de Mar protagonizó otros espacios televisivos; por ejemplo, Los Ricachos, donde Pototo y Filomeno cambiaban personajes para encarnar a Juan Ramón y Domitilo respectivamente, siempre acompañados por un elenco estelar.
En los años 40's, interpretó al detective Mr. Chan en la serie radiofónica "Raffles, El Ladrón de las Manos de Seda", al lado del inspector Carter. Ese programa radial cubano, escrito por José Ángel Buesa, trataba sobre las aventuras de Raffles, un elegante y sofisticado ladrón, que robaba a gente cuya fortuna era mal habida.
Raffles, con una doble personalidad, a veces era el respetado Lord Lister y el resto del tiempo se ponía su antifaz para salir a las calles londinenses a realizar su labor. Después de robar dejaba una tarjeta de presentación en el lugar y posteriormente donaba el botín a causas nobles. Aníbal de Mar participó también en la cinta homónima que después se haría. El siguiente es un episodio de Raffles en donde se escucha a Mr. Chan con la voz de Aníbal de Mar:
También se cuenta entre sus principales filmes el titulado "Hitler Soy Yo", de 1944, acompañado de Adolfo Otero.
Entre otras filmaciones que protagonizó se encuentran "Romance Musical" en 1941 con la intervención del gran actor Otto Sirgo, Rosita Fornes la gran actriz Enriqueta Sierra, Elsa Valladares Olga Chorens, Normita Suarez y Rita Montaner, luego estaba "Fantasmas del Caribe" en 1942, "Música Mujeres y Piratas" en 1950, "Hotel de Muchachas" en 1951, "Príncipe de contrabando" en 1950 y "Ole…Cuba" en 1957.
Para el año 1947, en la ciudad de New York, Estados Unidos, Aníbal participó para los estudios de la Metro Goldwing Mayer (MGM) en el doblaje al español de la película "Little Mr. Jim" ("El pequeño Mr. Jim"), en donde él hizo la voz de un personaje chino llamado Chingwah Lee. Un avance de esa película es posible verlo en el sitio web de la MGM.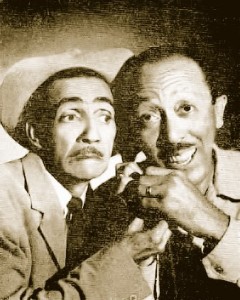 Aníbal de Mar junto a su gran compañero Leopoldo Fernández
En la década de los años 50, protagonizó la serie televisiva Pototo y Filomeno, acompañado de Leopoldo Fernández. Encarnaba al juez que también estaría presente en La Tremenda Corte. Al lado de Leopoldo Fernández y la orquesta charanga Melodías del 40, grabó también un LP con las canciones del programa. Fue gran amigo de Leopoldo Fernández con quien tenía una química durante la actuación pocas veces vista.
Tras la revolución cubana, Aníbal de Mar marchó a los Estados Unidos. Fuera de la Isla, el desarrollo de su carrera artística continuó siendo floreciente y se potenció su expansión continental. La mayoría de las presentaciones de Aníbal de Mar en ese país tuvieron lugar en teatros, aunque también mantuvo sus incursiones en la televisión.
Este compañero inseparable de Leopoldo Fernández, cuyo hobby era la fotografía, falleció el 22 de febrero de 1980 en Miami Florida.
Sources: AnibaldeMar/InternetPhotos/theCubanHistory.com
Anibal de Mar/ The Cuban History/ Arnoldo Varona, Editor
TheCubanHistory.com Comments
comments