SANTERIA is an Afro-Caribbean religion which is becoming more widely practiced in North America as immigration continues from Latin America and specifically Cuba. The rituals of this religion are bizarre by conventional western standards and often result in reports of criminal activity or lead police to presume that a criminal act has been committed. Police officers investigating alleged criminal actions by practitioners of these religions should be familiar with the meaning and potential relevance of religious artifacts and cult practices.
Santeria is a religion popular among Hispanics in general and Cuban-Americans in particular. Like other Afro-Caribbean cults practiced in Miami, such as Haitian Voodoo, Obeah and Brazilian Candomble, it blends African religion with some aspects of Christianity. The Spanish, French and Portuguese introduced African slaves to Christianity and, partly as a compromise to ensure cultural survival, the slaves depicted the various African deities with facsimiles of Roman Catholic saints (a phenomenon known as syncretism). The gods and goddesses of Santeria are of West African origin, specifically of the Yoruba culture of southwestern Nigeria.
The beliefs and rituals of Santeria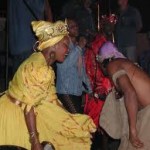 According to the beliefs of Santeria, each person is born under a particular guardian saint (Orsha) that must be worshipped [worshiped] throughout life. The guardian saint is central to all rites and magic performed in Santeria. An essential part of those rituals involves the use of herbs, roots, flowers and plants. Most of these and other religious paraphernalia may be purchased from stores called "botanicas" which are found throughout Dade county.
Most formal Santeria rituals also require the use of sacrificial birds and animals. Each of the saints is 'fed' his or her favorite food or sacrifice. The blood of roosters, turtles and goats is the most common offering. Birds such as pigeons, canaries and hens are used in rubbing rituals where the practitioner is cleansed-the evil supposedly passing from the victim to the animal.
Santeria practices or magic are most often used as a strategy to resolve conflicts both within and between persons. Through a set of symbolic rituals, practitioners are believed to achieve relief from various forms of emotional, social and physical disabilities. Practiced within the bounds of non-medical and psychic healing, which is generally the case, Santeria is a neutral or benevolent magic religion. Santeria does not promote malevolent or criminal activities, but it does have a component of malevolent sorcery that is often used by criminal individuals for their own purposes. Santeria does not have a specific moral code such as found in Judeo-Christian religion and, as such, is amenable to enhancing the criminal enterprises of those who may use its magic for personal protection and good fortune. Drug dealers, for example, are often found with elaborate statues and other depiction of Santeria in their homes or hideaways. The god of hunting and owner of traps (Ochosi), for example, is often honored by Latin criminals in order to avoid incarceration or to obtain release from jail, or ward off the police.
Ritual Sites and Houses or Worship
Ritual sites of Santeria practices reflect the objects of worship and purpose of the ritual-essential information for police investigators who suspect criminal activities. A general overview of the organizational structure and beliefs of these practitioners is essential to an understanding of these religious accouterments.
Priests and priestesses in the Santerial religion are known as "santeros" or "santeras" and high priests are known as "babalawos". Both men and women can become initiated into this religion. The order of the high priest or "babalawo" is only reserved for males. These practitioners specialize in divination to predict the future and interpret significant omens in the consultant's life.
The Santeria practitioners organize themselves under what is known as "casa de santo" or literally 'house of saint'. Each new initiative in the religion is sponsored by a "padrino" or "madrina ('godfather' or 'godmother') who is responsible for teaching the newcomer the "secrets" of the religion. This same godfather/godmother has numerous other individuals that have become full-fledged practitioners under his/her guidance as well as individuals who have consulted them once or twice for minor problems (such as love magic, prosperity, minor health problems, etc.).
The estimate of how many individuals practice Santeria in the United States varies. Authors such as Migene Gonzalez-Wipler (1973, p.10) have placed this number at over one hundred million practitioners in the Americas. Other more conservative estimates place this number in the hundreds of thousands in the United States. Conservative estimates for the South Florida area point to about 10 to 15 percent of the Hispanics being either full-fledge practitioners or "dabblers" in Santeria rituals. It must be mentioned that many followers of this religion maintain strict secrecy regarding their religious involvement. A good index of the popularity of Santeria is the number of botanica stores found throughout Dade county. Currently, there are approximately 60 botanicas catering to the needs of Santeria followers in the greater Miami area.
To the Santeria practitioners, religious mythology plays a major role in adding logic and depth to the symbolic nature of their practices.
Understanding the myths and legends of each god or goddess is essential in determining what animals or foods are offered, what colors are associated with the deities, what ceremonies are conducted on particular days of the week, the specific dances performed, and a host of other details pertinent to the religion. It is important to point out that these myths and legends are real and meaningful to the members of this religion.
The following is a description of the most popular Orishas:
Also known as Echu, is the guardian of the crossroads. All rituals are first begun by invoking Eleggua. He is known to punish those who do not respect him. He is a restless god, and for his own amusement causes much annoyance to mortals. It seems that even among the other deities, he is a bit of a practical joker, though at times not very funny. The colors of Eleggua are red and black. His numbers are 3 and 21.
OBATALA
He is considered the creator of the world. The father of all the Orishas and the god of peace. His color is white and the numbers are 8 and 16.
YEMAYA
Queen of the seas and goddess of motherhood. She is depicted as a virtuous mother, prudent, intelligent, and at the same time warm, human and happy. Her colors are blue and white and the number is 7.
Goddess of love and lust. She is depicted as being sensuous, witty and wicked. She is also the goddess of rivers, lagoons and gold. Oshun represents all things sweet, beautiful and voluptuous. Her colors are yellow and gold and the number is 5.
CHANGO
God of virility and strength, also of thunder and lightning. Above all he is representative of unbridled sexuality. There is no deity more vehement nor energetic. His color is red and white and the numbers are 4 and 6.
OGGUN
The god of all things made of iron and mineral. A warlike god. He is symbolized by machetes, picks, shovels, hammers, and any object made of steel or iron. His colors are green and black and the number is 7.
BABALU AYE
God of illnesses and seer who can look into the future. His colors are purple and brown or purple and yellow and the number is 17.
OCHOSI
He is the god of hunters and spell casters. He is also known as a god of justice. He is frequently associated with the police, the jails, and the legal system. His color brown and beige and the number is 3.
Sources: Santeria/Godoy/Martinez/InternetPhotos/YouTube/ TheCubanHistory.com
Santeria/ The Cuban History/ Arnoldo Varona, Editor
LA SANTERIA
SANTERIA strong> es una religión afro-caribeña, que es cada vez más una práctica generalizada en América del Norte con la inmigración continúa de América Latina y Cuba en particular. Los rituales de esta religión son extrañas, por los estándares occidentales convencionales ya menudo resultan en los informes de actividad delictiva o los llevan a la policía a suponer que un acto criminal se haya cometido. Los agentes de policía que investigan supuestas acciones criminales por parte de los practicantes de estas religiones deben estar familiarizados con el significado y la relevancia potencial de los artefactos y las prácticas religiosas de culto.
La santería es una religión popular entre los hispanos en general y cubano-americanos en particular. Al igual que otros afrocaribeños cultos practicados en Miami, como el vudú haitiano, Obeah y el candomblé brasileño, que se mezcla la religión africana con algunos aspectos del cristianismo. Los esclavos africanos español, francés y portugués introdujo al cristianismo y, en parte como un compromiso para asegurar la supervivencia cultural, los esclavos representaban las deidades africanas con los facsímiles de varios santos católicos (un fenómeno conocido como sincretismo). Los dioses y diosas de la santería son de origen africano occidental, específicamente de la cultura yoruba en el suroeste de Nigeria.
The beliefs and rituals of Santeria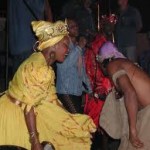 De acuerdo con las creencias de la santería, cada persona nace bajo un determinado santo guardián (Orsha) que debe ser adorado [adorado] durante toda la vida. El santo tutor es fundamental para todos los ritos y la magia realizados en la santería. Una parte esencial de los rituales implica el uso de hierbas, raíces, flores y plantas. La mayor parte de estos y otros objetos religiosos se pueden comprar en las tiendas llamadas "botánicas", que se encuentran en todo el condado de Dade.
Rituales de la santería más formales también requieren el uso de las aves y los animales de sacrificio. Cada uno de los santos es "alimentado" por su comida favorita o el sacrificio. La sangre de los gallos, tortugas y cabras, es la ofrenda más común. Las aves como las palomas, canarios y gallinas se utilizan en los rituales de roce donde el practicante se limpia el mal-supuestamente el paso de la víctima para el animal.
Las prácticas de la santería o la magia se utiliza con mayor frecuencia como una estrategia para resolver los conflictos dentro y entre las personas. A través de un conjunto de rituales simbólicos, los profesionales se cree que para lograr el alivio de diversas formas de discapacidad emocional, social y físico. Practicado dentro de los límites de la curación no médica y psíquica, que es generalmente el caso, la santería es una religión mágica neutral o benevolente. Santería no promueve actividades malévolas o penal, pero tiene un componente de la brujería malévola que se utiliza a menudo por individuos criminales para sus propios fines. La santería no tiene un código moral específico, tales como se encuentran en la religión judeo-cristiana y, como tal, es susceptible de mejora de las empresas criminales de los que puede usar su magia para la protección personal y la buena fortuna. Los traficantes de drogas, por ejemplo, a menudo se encuentran con estatuas elaboradas y otra representación de la santería en sus hogares o refugios. El dios de la caza y el dueño de las trampas (Ochosi), por ejemplo, a menudo se honra por los criminales de América con el fin de evitar el encarcelamiento o para obtener la liberación de la cárcel, o protegerse de la policía.
Ritual Sites and Houses or Worship
Sitios rituales de práctica de la santería reflejan los objetos de culto y el propósito de la información ritual esencial para los investigadores policiales que sospechan que las actividades delictivas. Una visión general de la estructura organizativa y las creencias de estos profesionales es esencial para la comprensión de estos atavíos religiosos.
Los sacerdotes y sacerdotisas de la religión Santerial son conocidos como "santeros" o "santeras" y los sumos sacerdotes se conocen como "babalawos". Tanto hombres como mujeres pueden llegar a ser iniciados en esta religión. El orden del sumo sacerdote, o "babalawo" sólo está reservado para los hombres. Estos profesionales se especializan en la adivinación para predecir el futuro e interpretar los presagios significativos en la vida del consultor.
Los practicantes de la santería se organizan en lo que se conoce como "casa de santo" o literalmente "casa de santo. Cada nueva iniciativa en la religión es patrocinado por un "padrino" o "madrina (" padrino "o" madrina "), quien es responsable de enseñar a los recién llegados los 'secretos' de la religión. Este mismo padrino / madrina, cuenta con numerosas otras personas que se han convertido de pleno derecho los practicantes están bajo su orientación, así como las personas que los han consultado una vez o dos veces por problemas menores (como la magia de amor, la prosperidad, los problemas menores de salud, etc.)
La estimación de la cantidad de individuos practican la Santería en los Estados Unidos varía. Autores como Migene González-Wipler (1973, p.10) han colocado a este número en más de cien millones de practicantes en las Américas. Otros cálculos más conservadores estiman este número en los cientos de miles de personas en los Estados Unidos. Las estimaciones más conservadoras para el punto de la zona sur de la Florida a alrededor del 10 al 15 por ciento de los hispanos ya sean profesionales abandonan el nido completo o "diletantes" en los rituales de santería. Cabe mencionar que muchos seguidores de esta religión mantener estricto secreto respecto de su participación religiosa. Un buen índice de la popularidad de la santería es el número de tiendas de Botanica se encuentran en todo el condado de Dade. En la actualidad, existen alrededor de 60 botánicas que atienden a las necesidades de los seguidores de la santería en el área metropolitana de Miami.
Para los practicantes de la santería, la mitología religiosa juega un papel importante en la adición de la lógica y la profundidad a la naturaleza simbólica de sus prácticas.
La comprensión de los mitos y leyendas de cada dios o diosa es fundamental para determinar lo que los animales o los alimentos se ofrecen, qué colores están asociados con las deidades, lo que las ceremonias se llevan a cabo en determinados días de la semana, las danzas específicas realizadas, y un anfitrión de otros los detalles pertinentes a la religión. Es importante señalar que estos mitos y leyendas son reales y significativos para los miembros de esta religión.
La siguiente es una descripción de los Orishas más populares:
También conocido como Echu, es el guardián de las encrucijadas. Todos los rituales están primero iniciado por la invocación de Eleguá. Él es conocido por castigar a aquellos que no lo respetan. Él es un dios inquieto, y para su propia diversión hace que mucha molestia a los mortales. Parece que incluso entre los otros dioses, que es un poco bromista, aunque a veces no es muy divertido. Los colores de Elegguá son el rojo y negro. Sus números son 3 y 21.
OBATALA strong>
Se le considera el creador del mundo. El padre de todos los Santos y el Dios de paz. Su color es blanco y los números son 8 y 16.
YEMAYA strong>
Reina de los mares y la diosa de la maternidad. Se la representa como una madre virtuosa, prudente, inteligente y, al mismo tiempo cálida, humana y feliz. Sus colores son azul y blanco y el número es el 7.
Diosa del amor y la lujuria. Ella se describe como un ser sensual, ingenioso y malvado. Ella es también la diosa de los ríos, lagunas y el oro. Oshun representa todas las cosas dulces, hermosa y voluptuosa. Sus colores son el amarillo y el oro y el número es 5.
CHANGO strong>
Dios de la virilidad y la fuerza, también de truenos y relámpagos. Por encima de todo lo que es representativo de la sexualidad desenfrenada. No hay ninguna deidad más vehemente ni energía. Su color es el rojo y el blanco y los números son 4 y 6.
Oggún strong>
El dios de todas las cosas hechas de hierro y minerales. Un dios guerrero. Está simbolizado por los machetes, picos, palas, martillos, y cualquier objeto de acero o de hierro. Sus colores son el verde y el negro y el número es el 7.
Babalú Ayé strong>
Dios de las enfermedades y vidente que puede mirar hacia el futuro. Sus colores son el morado y marrón o púrpura y amarillo y el número es 17.
Ochosi strong>
Él es el dios de los cazadores y los lanzadores de conjuros. También es conocido como un dios de la justicia. Él se asocia frecuentemente con la policía, las cárceles, y el sistema legal. Su color marrón y beige y el número es 3.
Fuentes:La Santeria/ Godoy / Martínez / InternetPhotos / YouTube / TheCubanHistory.com
Santería / La Historia de Cuba / Arnoldo Varona, Editor
TheCubanHistory.com Comments
comments