Lucrecia was born in the neighborhood of El Vedado in Havana (Cuba), Lucrecia Pérez Sáez was interested from a very young age in everything related to music. At only seven years of age, while she was spending her childhood in Guanabacoa, she began her music studies and graduated in piano at the Cuban Higher Art Institute and complemented this speciality with singing classes.
She participated as singer and keyboard player in the Anacaona orchestra and went on a world tour, until she reached Spain. And she settled in Barcelona. In 1993, Lucrecia participated in the Havana Festival of Boleros and was one of the most outstanding artists. That same year she was finalist in the contest to select the Cuban representative of the OTI Festival.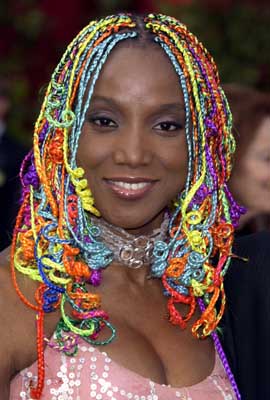 A Multifaceted Artist
As well as her own musical projects, Lucrecia has worked with singers of international fame, such as Chavela Vargas, Paquito D'Rivera, Albita, Chano Lobato, Manzanita, Álex Acuña, Lluís Llach or her beloved friend Celia Cruz. But her artistic career does not end in the world of song. The Cuban has participated as an actress in Ataque verbal, a film directed by Miguel Albaladejo, starring alongside Adriana Ozores, Antonia San Juan, Sergi López, Elvira Lindo and Antonio Resines, among others. But one of her most charismatic roles, especially for the very young, is her appearance in the children's programme Los Lunnis (shown by Televisión Española). Lucrecia has participated in this TV show for some time, joining the friendly puppets to explain to Spanish boys and girls many aspects of daily life: when to go to bed, school classes, food, friendship, etc. She also finds time to be the image of organisations and events, such as the chocolate fair (held recently in Barcelona), where Lucrecia participated in several performances as a storyteller and singer.
But that's not all. As if that was not enough, this singer, actress and presenter also has time to write. Her first, and currently only, incursion into literature was the children's book Besitos de chocolate. Cuentos de mi infancia (El Aleph, 2006). A multifaceted artist loved by the public for her friendliness, sweetness and optimism.
She has worked in various movies and with several artists like Celia Cruz, Chavela Vargas, Manzanita or Lluís Llach.
Discography
Segunda piel (1999) by Gerardo Vera, singing her song Youkali.
Ataque verbal (1999) by Miguel Albaladejo, as an actress.
Balseros (2002), by Carles Boch and Josep Maria Domènech, original soundtrack.
El gran gato (2003) by Ventura Pons, singing "Barca, cielo y ola" as a tribute to Gato Pérez.
Los Lunnis (2003–2009), RTVE program, as an actress.
Discography
Album de Cuba, 2009
Mira las luces, 2006
Agua, 2002
Cubáname, 1999
Pronósticos, 1997
Mis Boleros, 1996
Prohibido, 1996
Me debes un beso, 1994
Book
Besitos de chocolate. Cuentos de mi infancia (Chocolate Little Kisses. Remembrances from my Childhood)(El Aleph, 2006).
Sources: BabelFestival/YouTube/TheCubanHistory.com
TheCubanHistory.com Comments
comments